Be authentic, help others, tell the truth.
An Interview with Jonathan Barnbrook
Website: https://barnbrook.net/
Jonathan Barnbrook endeavours to produce honest work with a social conscience at his design studio in North London.
© Barnbrook
Barnbrook is a design studio founded in 1990 by Jonathan Barnbrook. It is one of Britain's most well known creative studios, producing a variety of work from publication design to branding, working with clients from Tokyo to Ukraine. The influential yet extremely modest studio is made up of Jonathan, six employees and two rather mischievous white cats, Lou and Jim. Whilst Jonathan is usually found working at his studio, tucked away down a residential road in North London, I spoke to the designer whilst he is currently working from home.


A post on their instagram astutely sums up their practice, reminding their followers to be authentic, help others, tell the truth.

Jonathan believes that designers should consider their work as an extension of their own principles and exercise their skills to help the organisations with the right messages, rather than implicitly supporting a consumerist world. The designer has always focused on creating work which sits within his own interests and ideologies, unlike many in the industry who are focused on finding the next big commercial project to bring in the cash. This has meant that the work produced at Barnbrook is consistently thought-provoking and of social conscience, which is surprisingly refreshing in a profession that is intrinsically linked to capitalism. Jonathan was also among the group of designers who re-signed the First Things First manifesto in 2000.

How do you think designers' engagement with politics has changed since you signed the manifesto?

Jonathan: Around the time that the First Things First manifesto came out, politics in the mainstream design industry was something that was always really politely pushed to the side. Along with the manifesto in the year 2000, came the rise of globalism, when certain companies began outsourcing to countries such as Thailand using slave labour, which is when a lot of us felt like we couldn't ignore [the politics].

This moral conscience meant that a lot of designers no longer wanted the 'cool jobs' which came from places such as large sporting companies.

Jonathan: Design is on the political agenda even more where it perhaps wasn't 20 years ago. Situations in society are always desperate - graphic design in terms of posters and placards are tools of protest used to fight that more desperate situation.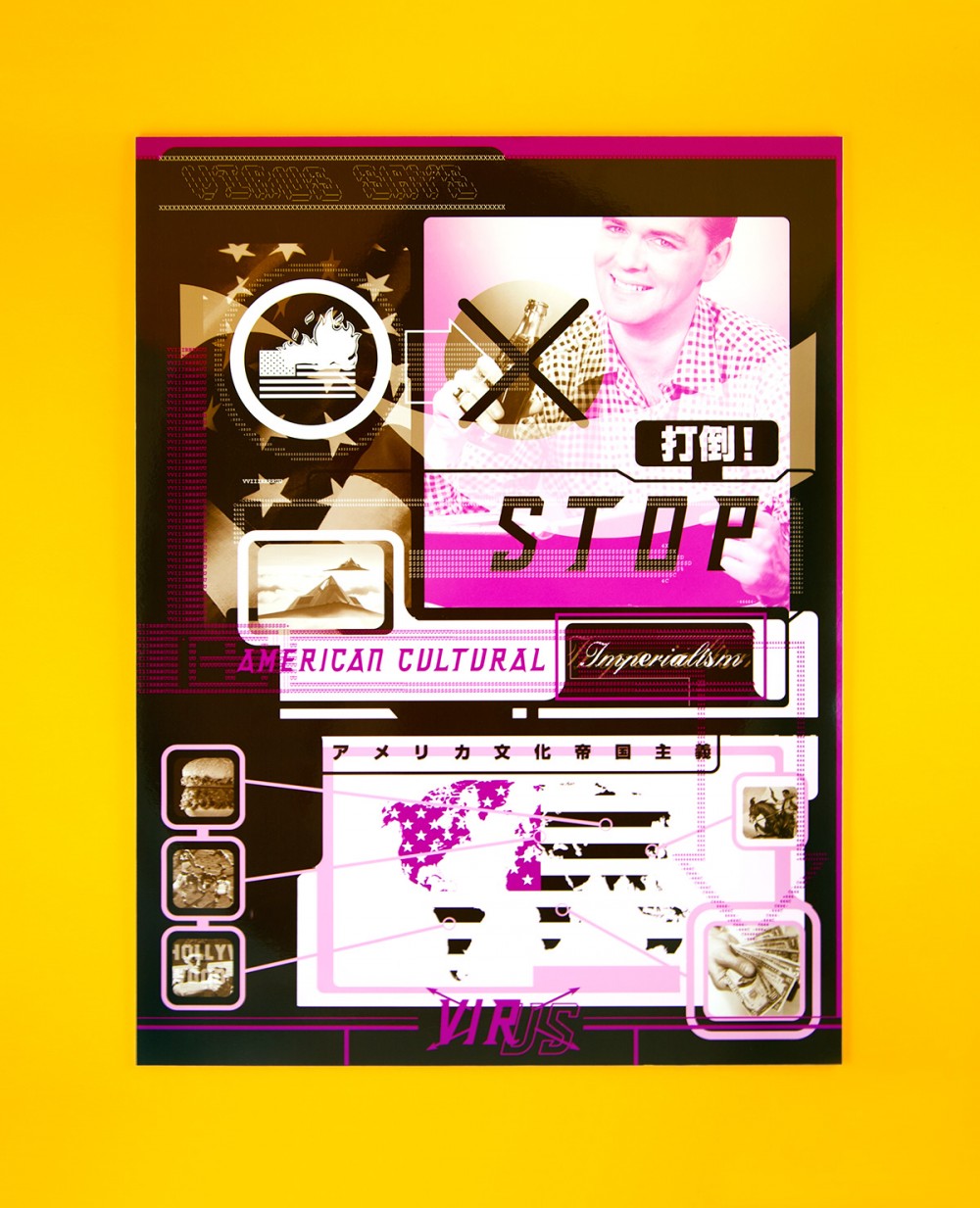 Stop American Cultural Imperialism
© Barnbrook Website
Jonathan believes that design can be used to invoke social change, but only where it puts pressure on politicians. This can only be done by gaining public support and getting your information across to a large audience. Graphic design is a form of mass communication that has a place in changing the fabric of society.

What do you think designers can learn from the practice of activists?

Jonathan: The first process is not to get hung up on whether something is graphic design or not. Activists understand that design is just one of their tools, and an effective one. All you can hope to do as a designer when you do a piece of activism or work for an activist group, is to help facilitate a change. You do this by helping to put forward a point of view until it gains majority and people find that moral situation untenable. Nobody has really been changed by one poster. Designers need to break out of their own bubble and understand that design has a role in the context of political movement, but not worry about it being design so much.


Olympukes
© Barnbrook Website

Barnbrook uses typography to actively address and challenge social issues. VirusFonts is the font foundry set up by Jonathan in 1997 which has produced over 40 fonts. One of the designs include Olympukes, the name of the font originating from the amalgamation of the words 'olympics' and 'puke'. I asked Jonathan about his motivation for the project.

Jonathan: I realised that there are all these issues with the olympics, that people may have not considered. I felt it was important to express that opinion and do it in a pure graphic design form. Pictograms are seen as one of the best examples of design utopianism, in that they reach beyond language and cultural barriers. But unfortunately pictograms, including the Olympic versions, have been designed by white male designers who don't have the knowledge of the different cultural complexities of non-western countries. I wanted to highlight that - what is missing in the olympic pictograms - the western male chauvinism.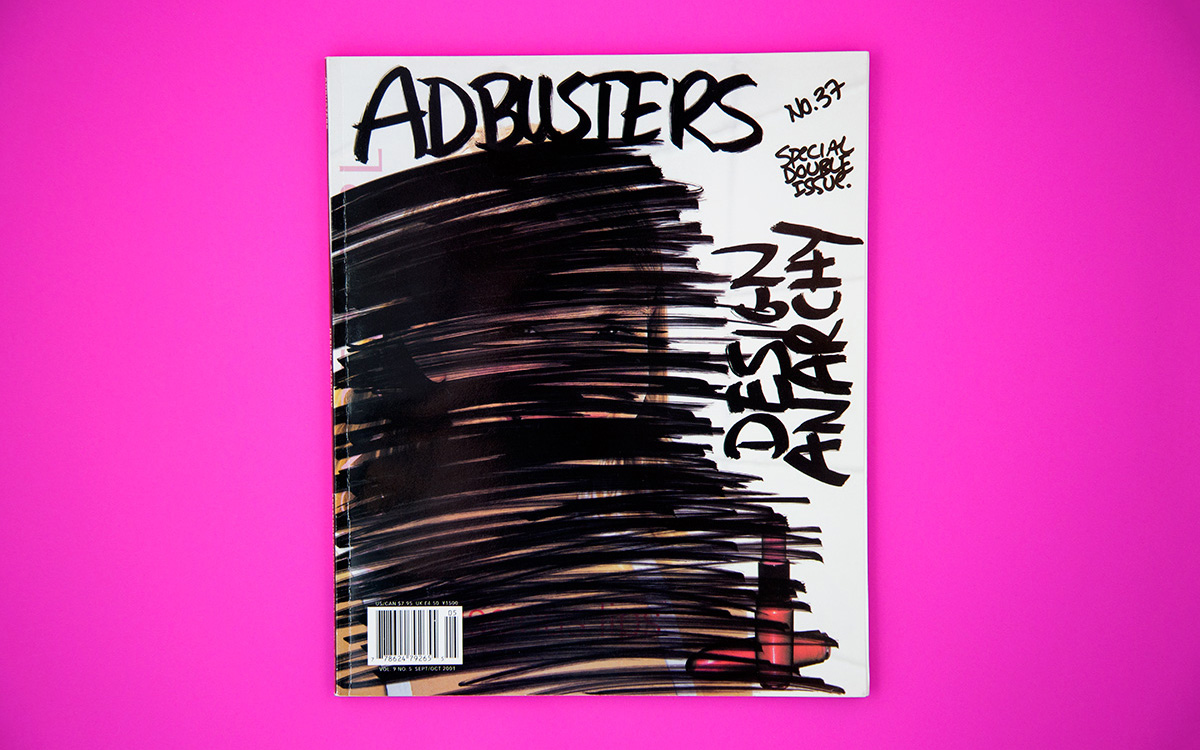 Adbusters: Design Anarchy
© Barnbrook
The designer finds the idea of the truth a very important, yet wavering concept. In our modern lives we are constantly offered opinionated or unreliable sources of information, whether this is through advertisements or news outlets. Barnbrook has worked with Adbusters, an activist hub that produces a bi-monthly magazine, aiming to expose the corruptive power of advertising. Adbusters came about in 1989, before the rise of the internet, so the print magazine was a powerful point of focus for people who were extremely unhappy about the way consumerism was being promoted and the way that advertising agencies were acting. The design studio collaborated with the not-for-profit magazine to help them design several of their editions. Jonathan articulated his motivation for the collaboration as satisfying a disposition to always tell the truth. He described his first awakening encounter with the activist magazine.

Jonathan: I remember finding a copy of Adbusters in a record shop in London. I couldn't breathe when I was reading it because I thought - this is exactly what I've been thinking and a lot of people have been thinking. I was familiar with 'subvertising' but I didn't know that there were people producing it to such a high level with a readership that was so engaged. I met with Kalle, the editor, a while later and he was an extremely charming, funny and nice guy. His sense of humour is definitely reflected in their work.

Jonathan revealed that in telling the truth, Adbusters upset a lot of designers. He pointed out that some things simply can't be done in a nice way, and in creating subversive work, you will unequivocally aggravate some people. In his work with Brandalism, they - for legal reasons, hypothetically - hijacked large billboards and posters in public spaces. I asked Jonathan what he would say to students or young designers who have something to say, but are refraining from engaging in detournement ("rerouting, hijacking") methods.

Jonathan: Firstly, we didn't have access to public billboards, we didn't politely give the billboard owners a load of money, we just put them up. Brandalism sell a little spanner that you can use to undo a bus shelter with and put your own posters up. Even putting a poster up publicly, no matter where it is will have an effect. If you have something you strongly disagree with, a subversive opinion I think you should express that.

Secondly, if you like someone's work you should contact them. Whether it's Brandalism, Adbusters, or an organisation like Amnesty. Because they do need people, though you're not getting paid, there is something much bigger when you're doing work that is true to your soul. Design should be utopian - it should promise a better society. As designers we should speak the truth as we see it. Working for these organisations allows you tell the truth.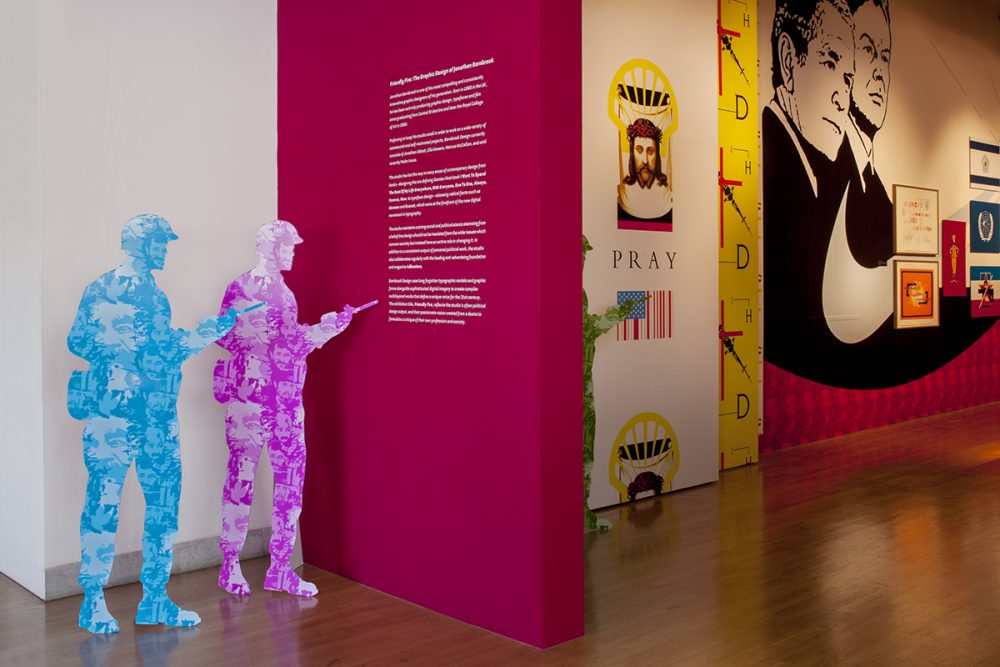 'Friendly Fire' Exhibition at the Design Museum

© Barnbrook
At Barnbrook studio, Jonathan remarked that they either work for cultural institutions or align themselves with few political organisations. The designer remarked that having a political point of view often makes it difficult to get work. He says that clients are more interested in your portfolios (the how), rather than your opinion (the why). When asking Jonathan what he's been up to recently, he remarked that his attention span has been destroyed by the internet, so he's been forcing himself back into reading. Jonathan mentioned two novelists in particular - Thomas Mann and Hermann Hesse.

Jonathan: We came very close to the abyss with Trump, and we're getting close with Boris Johnson, so there is a lot to fight for again. Young people these days have a really bad deal. The country is being run by older generations who simply don't understand young people.

I have taken a step back from politics in my work in the past two years. I've worked a lot more on cultural projects like music. Being older and having a more zen state of mind, I feel that I should try to make people happy rather than angry. I've learnt that whilst it's important to reveal and highlight problems, you can actually use design to offer positive solutions, which is what I'm trying to do.

Nobody hates more than me, people who just stand around moaning all the time - first you have to be active and second, you have to see your motivation beyond misery but as taking hold of the beauty of this world. Design has no morals, it is the person doing the design that should have the morals. What I aim to do is be a good citizen by creating good design.