The success of Extinction Rebellion - it's visual consistency. Posters, banner, stickers all lend itself to the graphic language created by their in-house team, creating a movement with significant presence.

© Joel de Vriend via Unsplash
We reached out to Clive Russell, design director at London-based studio This Ain't Rock'n'Roll, and one of the earliest drivers behind Extinction Rebellion. Clive, alongside a team of creatives, is responsible for the graphics which we have come to associate with the Extinction Rebellion protests.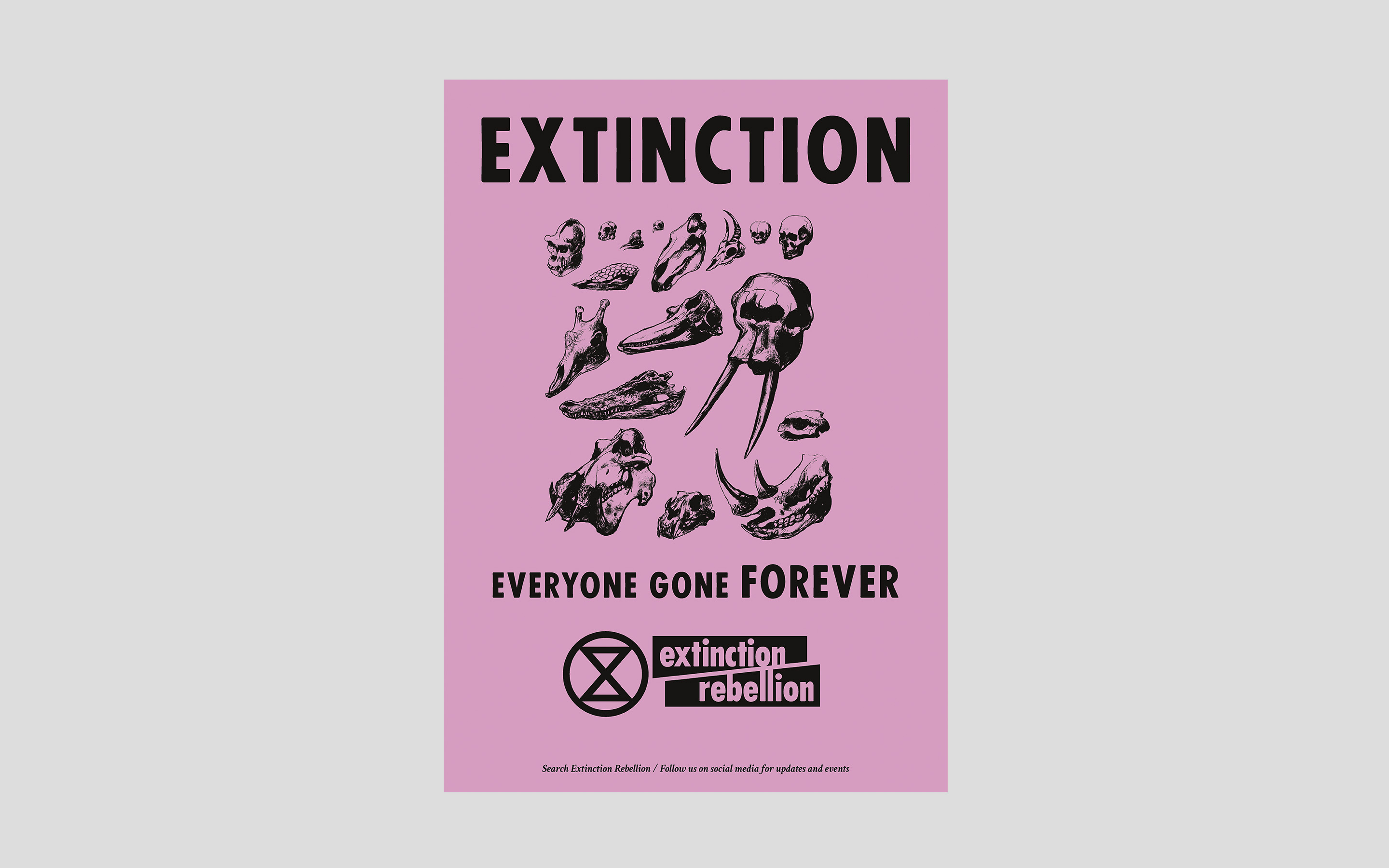 Extinction Rebellion Design Programme Posters
Available to download here




Extinction Rebellion wants to halt mass extinction through collective action and bring about political change using non-violent civil obedience.

The Extinction Rebellion movement has become synonymous with the Extinction symbol, an hourglass in a circle, created by artist ESP in 2011. ESP allowed the Extinction Rebellion group, otherwise known as XR, to take on the symbol to use in their visual imagery, under the agreement that it is not used commercially. In fact, XR are very strict in their policy against monetising from their movement; the symbol is not to be used on any merchandise or marketing. An in-house visual team of graphic, fashion, stage designers and artists work on the unified protest materials for their events. The group also holds workshops in London for protesters to print their own materials using the XR visual languages and assets, enabling people to make their own statements in unity.

How do you think the success of a strong visual identity for XR will influence future activist groups?

Clive: I like to think the strong visual identity of XR continues a tradition, it's another link in a chain, rather than a standalone influence for future activist groups. When we discussed how XR can look and feel, and at this point the name 'Extinction Rebellion' did not exist, we looked backwards at previous movements, the Suffragettes, Paris '68, Situationism in general, the Bauhaus, The Arts and Craft movement and used their shoulders to stand on. If our work inspires future activists they will be adding another link to this chain.










© Markus Spiske via Unsplash
The visual imagery for XR is made up of the all-capitals, sans-serif typeface, 'Fucxed Font', a bright colour palette and metaphorical illustrations of skulls and nature. The design is representative of the ideas behind the movement: to commit zero carbon emissions by 2025,"tell the truth" about climate change, and establish a citizens' assembly. There are also several practical elements to the graphic language - the colours that XR use are vibrant, making them stand out in a crowd within large public spaces.

The XR have also published a design programme, or 'set of rules' for their followers to refer to. This makes it easier for followers of the movement to design their own materials for their own purposes, using the design assets - as basic as the colours, the logo and a typeface. Extinction Rebellion pride themselves on being a decentralised movement, so there is an element of irony that their unified visual style is a result of a set of guidelines. However, the document is not designed to restrict followers, butthey are there as a set of tools for the non-designer/average person to use. The Design Programme was initially created to recruit other design individuals, but has since been taken on by protest attenders who have applied the XR design assets to their own DIY protest materials. This has meant that across demonstrations, the hand-painted cardboard banners have the same visual tone as the professionally printed posters. The XR message has a stronger effect by way of a collective voice. The design considerations have created opportunities for collective individualism by open-sourcing.

What considerations did you make in terms of 'protest practicality' when designing a visual language for XR?

Clive: Protest practicality is at the heart of the 'Design Programme', the guide to the visual language for XR. All of the work is based on processes, practical processes of reproduction, with a low bar of entry so that any one can enjoy making an online banner or self print a flag using blocks. To do this we looked at the most effective direct printing techniques, mainly from the past, and designed fonts, colour schemes, messaging to help people 'Do-it-Together'. It was really important for us to give the work away, as quickly and as widely as possible. That way our work can be re-interpreted by new artists / activists / designers / in new ways – it can evolve through many hands, without the need for any intervention by us.



Extinction Rebellion Design Programme Posters
Available to download here




The XR visuals on a basic level, is the most accessible form of activism. Sending the messages of their movement through a unified visual language. The visuals are so strong and recognisable that they speak for themselves; the images themselves speak a thousand words. Extinction Rebellion don't see their visual consistency as brand building, which has connotations of slavery, consumerism and ownership, but they think that a cohesive visual language is helping them to build a presence.

The visual team behind XR has used design as a form of activism. The design programme allows for autonomous action with individuals from the group interpreting the designs for their own individual acts of activism.





© Ehimetalor Akhere Unuabona via Unsplash
The V
&
A collection has several XR artefacts in the permanent collection. Some of the protest material include a
fabric patch with
the
Extinction Symbol.
© V&A Website
How do you feel about your designs being exhibited at the V&A for the public to view, making it exist in both the context of a protest and a museum?
Clive:
I'm really happy our work appears at the V&A (and many other cultural spaces too). Every time our work is seen, the message reaches another person. Not everyone wants to join a protest and we want everyone to think about the problems we're facing. In fact, when our work appears in cultural spaces, it lets people know we aren't terrorists we are normal craftspeople who care about this planet we all share, a lot.